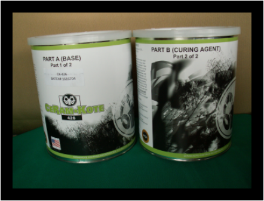 About CK426 Primer and Barrier Coat

CK426 is an air-dried ceramic coating engineered to provide corrosion protection and is generally rolled on to boat bottoms when being applied as a barrier or primer coat. CK426 can be spray applied, generally on large boats; contact Coppercoat USA for spray instructions. CK426 is a highly modified polymer resin system that has been loaded with a unique package of ceramic particles to enhance performance in aggressive environments.
Click here to view the Application Instructions for CK426 Primer and Barrier Coat (PDF)

CK426 is manufactured by CeRam-Kote Coatings, Inc. Big Spring, Texas and was developed to provide corrosion protection in potable water service.